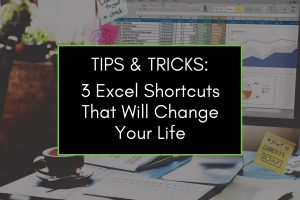 Excel is an amazing tool that can can simplify processes, organize data and, as a whole, make your job easier–if you know how to use it. Share these Excel tips with your team. They'll thank you for it.
Remove duplicate content. When working with a large set of data, the more likely you are to have duplicates. To remove duplicates, highlight the row or column in which you would like to remove duplicates and select "Remove Duplicates" under Tools. Click through to "Remove Duplicates," and you're all set!


Office 365 makes charts, graphs and pivot tables easy. Microsoft Excel has a new feature called "Quick Analysis." Select the cells you want to visualize, click the "Quick Analysis" tool and scroll through your options for presenting the material. To learn more or watch a tutorial, click here.


Go mobile. Did you know you can do just about everything in Excel from your tablet or smartphone? Calculate formulas using the "Formulas" tab, use the Recommended Charts feature to quickly visualize data, and use the onscreen keyboard to access common functions and built-in formulas.