Jeff Rogers, CEO of Big Green IT moves fast and it is hard to pin him down, but I was able to grab his attention for five minutes to ask him for three things Big Green IT would be doing in 2015 to help businesses become wildly successful!
Jeff expressed eloquently how important it is for Big Green IT to help their customers become 'wildly successful.' I wanted to know how his team would be helping with technologies to enable their customers to be more efficient, allowing them to do their jobs even better, for example, selling more loans, or selling whatever their specialty may be to make money? Jeff explained this in terms of three efficiencies:
Hardware efficiencies – enabling their customers to produce more performance and capacity out of the IT space they already have available. Jeff talks of hardware efficiencies as having really started in earnest in the last couple of years when some of the major manufacturers embraced new technologies such as flash. Last year, Big Green started working with companies embracing the next generation of technology, such as Nimble and Pure Storage; some of the leaders in integrating flash into storage systems to make them remarkably fast, more efficient, and use a lot less space for the same type of output for customers.
Tools to help create efficiencies – providing tools for their customers to utilize either through Big Green IT, or having members of the team instruct on how to use certain tools to generate more efficiency. Jeff and the Big Green IT team particularly like the tools that aid migrations, and help people get their jobs done. He told me that they have invested in a company called ServiceNow, an enterprise software business that not only helps Big Green IT to be more efficient as a company and provide better services, but also means the project work is provided in a more efficient manner. Jeff has been extending that toolset to his customers, training them, and helping them to become more efficient. For example, "it may take 10 people to support 1,000 users, but with the right tools and processes it can take 7 people to do the same thing, or enable them to expand to 1500 people and not worry about hiring more people because they are using the tools and being more efficient." 
People efficiencies – We touched on the subject when discussing tools, but Jeff feels very strongly about helping his customers use their own people to become more efficient. He further expanded upon the fact that while putting the right IT equipment in place is crucial, so is helping customers with their processes. If Big Green IT can help the process by supporting the technology as well as the end users so they get more from what they already own, then they can also help encourage moving people to different areas within the organization where they can add more value because the same IT jobs can be accomplished with less people. 
That well rounded, consultative approach is not just "here, we will sell you this," but it is "how can we sell you this, implement this, teach you this, and surround it with a set of processes and methodologies that help make the company more efficient overall, not just in a technology space but also for the people supporting it."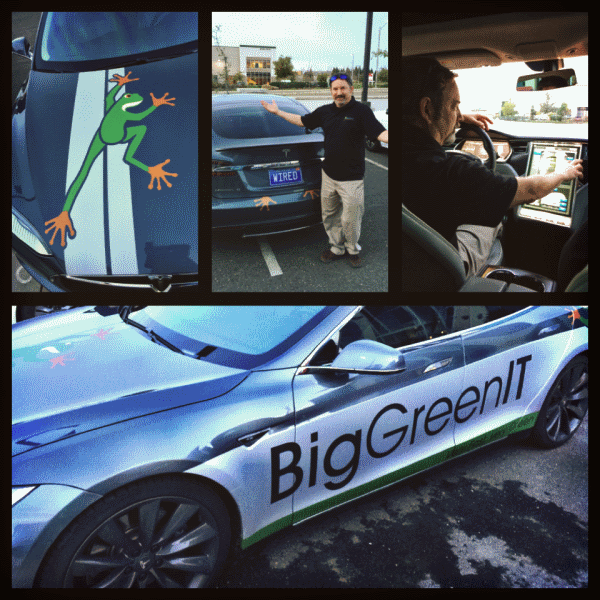 Finally I asked Jeff about the new addition to the Big Green IT team! Jeff reminded me that his company stands for being more efficient; being green and we pride ourselves on being fast. We were fortunate to acquire a Tesla – a very fast and very green machine! Fitting our tagline perfectly – very fast, very green! This company car, which has been wrapped in the logo, is there for sharing, with each employee getting a turn to take it home and share the Big Green IT story. 
It looks like a great year ahead for the Big Green IT team, who will be delivering many great options to both existing and new customers. I look forward to catching up with Jeff for another installment of 'Jeff Talks' very soon!
Click here to listen to the complete audio interview.