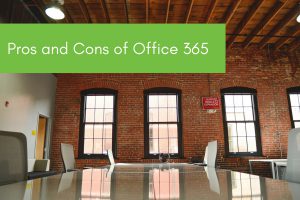 Moving your business to the cloud is a big decision, so what's your first step in the research process?
You make a list of the pros and cons of Office 365, of course! 
For large organizations, software migration should be carefully considered before multiple departments get involved, timelines are built, etc. For small businesses, owners should weigh the resources required to make a switch against the benefits they'll receive. 
There are many factors that determine whether a switch to Office 365 will be a business advantage for you. A few examples are:
Compliance and regulatory requirements
Age of existing infrastructure
How you're using email
Location of employees
In this post we'll examine the pros and cons of Office 365 in terms of how the features match up with common business needs. Let's get started.
Pros of Office 365
Security And Encryption
Of all the features of Office 365, security is where it separates itself from the rest of the pack of business and productivity software, such as Google Apps. Backing this up, Office 365 was recently listed as a Leader in the Gartner Magic Quadrant secure email gateways.  
Even though Office 365 is a cloud service, which means for the majority of implementations your data will be stored on Microsoft's servers, it has on-premise options. As discussed in another blog post, Office 365 offers an on-premise/cloud hybrid solution to satisfy compliance requirements, such as PCI, HIPAA, and eight other standards.
You will need to deploy an on-premise installation of Exchange Server, Sharepoint Server, or Skype for Business Server. 
Additionally, here's a summary of the security Microsoft has in place:
Physical access to their data centers is extremely tight. They use several layers of access control like biometric scanners, motion sensors, 24-hour surveillance and more.
Data encryption while at rest and also while being transmitted.
No data mining for advertising purposes.
Optional Enforcement of 'hard' passwords.
The option for the end-user organization to maintain their own encryption keys, which prevents Microsoft from accessing it all.
For a full list of Office 365 security features, check out the Trust Center.
Email
OK, so email isn't the most exciting thing in the world, but Office 365 is doing it very, very well. The cloud offers easy access for remote employees, and the encryption options make compliance easy.
Access anywhere – When you do a Google search for "Office 365" the first organic result is for email login, which is a pretty good indicator of how many people are logging in via the web portal. Web-based email isn't exactly a new concept, but Office 365 is doing it really well.
Integration – Just like Outlook combined your email and virtual calendar starting in 1997, Outlook 2016 has deep integrations with other Office 365 services like OneDrive, Skype for Business, or Delve (search and analytics). The OneDrive integration makes file sharing ridiculously easy and eliminates the problem of sending huge email attachments. Having Skype for Business integrated with your email and calendar tools allows you to launch video conferencing without having to download third party services and fuss with logins for every call. Delve provides more comprehensive email and document search, depending on your license. And yet again, Microsoft has been listed as a Leader in the Social Software in the Workplace section of the Gartner Magic Quadrant. 
Encryption – Microsoft has made sending encrypted email accessible to all talent levels of users by offering third party add-ins that only require a few clicks, or conditional rules to apply encryption. We like this feature so much we wrote a post detailing all the different ways to encrypt email with Office 365.
License Flexibility
There's no such thing as a one size fits all when it comes to business software—every organization has unique needs. This product page will give you a good idea of what's available out of the box, but you can also mix and match plan features to suit your needs.
This is an ideal model for a growing business that allows software to scale with your employees and infrastructure. Depending on how many users you have, you can actually save money with the subscription model. Plus, the latest updates are always included, so there's no need to buy a new version every few years.
Picking out the plan that suits your needs without buying things you don't need, however, can be tricky—we can help you choose the best plan for your needs.
Affordable Cloud Storage
Most Office 365 subscriptions come with a terabyte of of file storage and sharing. With a Business Essentials package you pay $5/month for 1TB of data. Compare that with some comparable storage and file sharing platforms:
Dropbox: 1TB for $8.25/month (2GB free)
Google Drive: 1TB for $9.99/month (15GB free)
Amazon S3: 1TB for $30/month (5GB free)
Prices effective as of August 2016
While this isn't an exhaustive list of cloud storage options, you can see that Office 365 is providing a ton of value through OneDrive for Business. Additionally, Microsoft is offering superior security to its competitors.
Honorable Mention: Office 365 Mobile Apps
Microsoft was slower to the mobile app productivity game than Google was with Google Apps, but now it is firmly entrenched with an impressive suite of business tools. You know the tools well: Word, Excel, PowerPoint. But the notable thing about Office Mobile and Office for iPad is they're not just the existing versions of the tools on a smaller screen—they're built from the ground up with touchscreens in mind. 
We're not going to go into every detail (great review from Techradar) but we will mention that the user interface is smooth, buttery, and intuitive to use. Sure, Word is significantly stripped down, but it's intelligently stripped down to the features you can use on a smaller screen. If you haven't checked out Office for iPad or Windows mobile in a while, it's worth a look.
Cons of Office 365
Real-Time Collaboration
When Google Docs launched the ability for multiple people to remotely edit a document at the same time, it was considered revolutionary. Depending on your industry, it was also highly useful.
Microsoft finally caught up, in terms of collaboration, with the launch of Office 365, but it still has a lot of catching up to do to keep up with the seamless cloud collaborating experience of Google.
The Wall Street Journal published a video that presents the negative scenario. Your results may vary, but those are a few of the hiccups.
While Google Docs doesn't have all the rich formatting Microsoft Word does, the real-time editing and collaborating is quite smooth.
License Flexibility
Wait, wasn't this listed in the Pros section? Yes, but the amount of options can also confuse some people, or worse, encourage them to buy something they don't need. You would be surprised how often we find that people are only using 20% of the functionality of their subscription. This is due to lack of knowledge, duplication of existing software solutions (Dropbox and OneDrive, for example) and uninformed decision-making.
If you'd like help choosing which Office 365 subscription best suit your needs, give us a call.
Cloud And On-Premise Solutions
As we mentioned earlier, requirements of HIPAA and similar compliancy standards force organizations to store records on-premise, which means they can't use the cloud for that purpose. Or, more likely, they need a hybrid model, where some files are stored on-premise and others on Microsoft's servers. 
While this hybrid model is totally doable and common for larger organizations, it requires custom configuration by somebody with a technical background. You also might need some third party integrations to get it to work just the way you need it to. We have successfully deployed dozens of hybrid cloud/on-premise Office 365 setups, so don't let that intimidate you, but be aware of the extra step.
Cloud-Based Means Internet-Based
We're stretching here, but if you or your team finds yourself in a Internet-less environment, and your subscription doesn't include the local apps, you might be stuck in terms of getting your work done. With the advance of their mobile applications and the ubiquity of Wi-Fi and cellular data, we don't usually find this to be a problem.
Again, when looking at the available licences, make sure to note which package contains the local apps if you or your employees will be doing a significant amount of work without an Internet connection.
Conclusion
Software migrations require a lot of research—it's not something you want to do every year. We hope this guide has gotten your research process off on the right foot. If you have any questions that aren't addressed in this post, please don't hesitate to get in touch with us or watch our Office 365 Webinar. If you're interested in seeing for yourself, we offer a 30-day free trial of Office 365. 
Big Green IT is a Microsoft Cloud Champion Partner. Our experience spans small-scale to large-scale Office 365 migrations for both the private and public sector. We specialize in migrations and deployments from 100 to 10,000 seats.