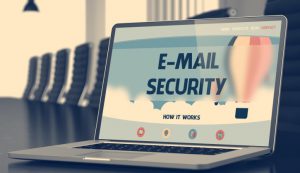 When you're doing business, not every email is meant for ever pair of eyes. When your CEO sends out directives for the new quarter to all of department heads concerning plans for the next quarter, the company's 4th of July picnic, and the fact that on August 1 we're laying off 25% of the staff, he's expecting those other executives to not forward it along to the rest of the troops.
Email security and email privileges are a precarious thing inside of a company. There's no denying the existence of an email once it's been seen by the wrong party. All that's left to do is decide who's going to order the gift basket for the offended party.
Microsoft Office 365 has the solution for all of those accidental email catastrophes you might be experiencing with its new Message Encryption capabilities, which leverages Azure Information Protection. 
With the new features, you can send encrypted and rights protected messages both internally and outside your organization, regardless if those recipients are using Microsoft Office 365 email or other popular services like Outlook or Gmail. The best part about these emails is you can effectively lock them from being forwarded, printed out, or even copied without permission. Eyes only will really mean eyes only once you're up and running with Message Encryption.
If you're concerned with employees sending your emails on to their personal email addresses or potentially someone outside the organization, you can also set your encrypts to keep sensitive information and data from leaving your gateway. Any forward to an email address outside your company's infrastructure will be stopped cold.
Perhaps the best thing about the new Message Encryption system with its integration of Azure Information Protection is how easily it functions for you and your employees. No more installing software to act as the encryption/decryption device; no more need for certificate maintenance.