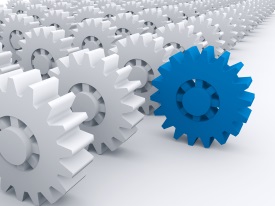 Jeff and I spent a moment reflecting upon the importance of leadership when it comes to planning a project, setting goals, and pointing everyone in the right direction. 
I am frequently in Jeff's office to chat about work, and the topic of leadership came up as a result of a conversation I overheard prior to our recording session – yes, I was eavesdropping! But luckily Jeff took this in stride. It is always fun recording with Jeff and Big Green IT!
Jeff was on a conference call, strategizing with an IT manufacturer over the best options to present to a major client, and all of his staff involved in the project. He had missed earlier conversations due to prior commitments, but spent a bit of time on the call just to catch up. He was happy with the way everyone had managed to collaborate, but realized quite quickly that potentially the perceived needs and solutions for the customer were getting complex and somewhat lost along the way. 
Jeff remarks that his job is to bring it all together and keep it on task, and as simple as possible. There was a comment that the customer needed several options to consider, answering the problems needing to be addressed. This was the point at which Jeff played his leadership card.
The customer really is not looking for six options, the customer is looking to Big Green IT to listen to needs, and come up with an answer, namely the right solution to the question. The job of a good leader is to bring everyone together, take the initiative on the call, and explain exactly what will happen. Basically to provide the optimum answer, and give an alternative option should it be necessary. 
Once Jeff took the lead, everyone agreed to the direction, a plan was made as to the various roles within the project. We have talked about the potential complexity of IT solutions, and how vital it is to keep IT as simple as possible, and articulate succinctly to the customer how complicated issues can be answered as simply as possible, and how this will be accomplished. 
It boils down to what the best solution to the problem, and why this solution will work. This answer is certainly more easily accessed with the help of strong leadership, not only in front of customers and manufacturers, but also from within the company, defining roles and setting cohesive goals for everyone to follow.
Click here to listen to the complete audio interview.