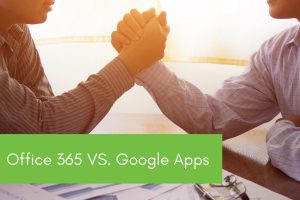 Our marketing team really wanted us to sensationalize a Google Apps vs. Office 365 article as an epic showdown.
We tried, but we work in IT, which means we stick to the facts, and this simply isn't a fair comparison if you're talking about enterprise software—Office 365 wins by a landslide.  
But that doesn't mean we can't give each platform a fair shake, objectively present the features of each service, which is exactly what we're going to do with this post.
Let's take a look at Google Apps vs. Office 365 regarding the following criteria: 
Work anywhere, anytime has become a high priority for job seekers and companies alike—it's not just Millennials. And why not? The transformative power of the Internet has taken root in our homes, our cars and of course, our workplaces.  
In addition to the criteria listed above, we're going to look at how Google Apps and Office 365 stack up in terms of helping employees work remotely.
That said, let's get started.
Cost
Oh yes, we're starting with the money. Not to be evasive, but this is a little trickier than a strict apples to apples comparison for two reasons:
Google Apps has a simple cost structure; there are only two basic options. Office 365 is more mix-and-match with seven common licensing and a myriad of single serve options.
The services you receive are inherently different, and which you prefer is subjective—e.g. Microsoft Word has richer formatting, but Google Docs can do more when running in a browser.
That said, we'll do our best to show you the money.  
Cost Of Google Apps For Work
The pricing model for Google Apps is dead simple:
$5/user per month for basic
$10/user per month for unlimited storage and a few other perks 
Cost of Office 365 
Let's just get this out of the way, there are a lot of license options:
Office 365 Business Essentials = $5/user per month 
Office 365 Business = $8.25/user per month
Office 365 Business Premium = $12.50/user per month 
Office 365 Enterprise E1 = $8/user per month
Office 365 ProPlus = $12/user per month
Office 365 Enterprise E3 = $20/user per month
Office 365 Enterprise E5 = $35/user per month
There are seven common packages out of the box, but you can also customize your license with a la carte services. We spend time every week talking with organizations helping them decide which package will work best for their needs.
It's an extra step, but if you have a lot of employees, choosing the right services can actually save you a ton of money—call us if you need help.
Utility
Besides the security aspect, which we'll get to in the next step, the feature set is typically the deciding factor between going with Google Apps and Office 365. Let's dig into some of the most-used services.
Google Apps Products
Gmail – This is pretty much the standard of free, web-based email today. With Google Apps, however, the service becomes more powerful, and the $5 plan comes with 30GB of email storage.
Hangouts – A useful tool for video chat. Limited to 15 people. Not compliant with HIPAA. 
Docs – While the native formatting is nowhere near as rich as Word without using third party extensions, the collaboration and sharing are intuitive and useful. Expect some formatting issues when converting from .docx formats, or when using offline. 
Sheets – Similar to Docs, Sheets work well for very simple spreadsheets. Much of the advanced functionality you're used to in Excel will not work. This is a summary of some traditional formulas that aren't compatible between Excel and Sheets.
Forms – If you haven't checked out Google Forms in a while it's worth a look. They've become quite handy as a free survey option.
Drive – The clean user interface is easy to navigate, but Drive falls short concerning advanced permission controls. The reason is that it operates on the principle that a single person owns a document or folder and shares with others. For larger organizations, this can quickly become a logistical nightmare. It's not quite at the enterprise level yet.
Vault – This tool is included in the $10 plan only, and is useful for retention, data loss, and search. Vault also offers some utility for legal issues with the ability to place litigation holds on email inboxes. 
Generally speaking, the real-time collaboration of Google Docs and Sheets is impressive.
Office 365 Products 
What can we say—you know most of the office productivity tools and their features. We'll breeze through a few of the ones we find particularly interesting/useful.
(Skipping over Word, PowerPoint, Exchange online and Outlook, which you probably already know very well.) 
SharePoint – Some businesses use SharePoint as a CMS for their websites, but we're going to talk about it in the context of file storage and sharing. While Google Drive focuses on ease of use, SharePoint offers flexibility and customization. It allows you to configure granular permissions for tons of people and access levels—this isn't' possible with Drive or even Dropbox. The software also allows you to customize the configuration, removing features your team doesn't need while highlighting others. You may also add branding for a professional appearance for outsiders you invite to view documents.
Microsoft allows you to buy SharePoint through a reseller that can configure, host, and manage your document storage needs.
OneDrive – While all the features of OneDrive are included in SharePoint, a customized SharePoint implementation might be overkill for smaller companies. OneDrive offers the file storage and sharing features of SharePoint without all the development. OneDrive for Business meets ISO 27001 security standards and complies with, HIPAA, and FISMA.
Workflows allow automated actions when a user is working in OneDrive. A popular workflow is to automatically email specified team members once a document is uploaded—nice.  
OneDrive comes with 1TB of storage per user, compared with 30GB from Drive. 
Skype for Business – Most people know Skype, the popular video chat program, but you may not know that you can dial in up to 250 people, as opposed to Google Hangout's limit of 15. Additionally, Skype for Business is fully HIPAA compliant (Hangouts is not) so you can discuss and store PHI.  
Skype is, frankly, far more reliable than Google Hangouts regarding resolution and 'call' dropping. This is based on anecdotal and subjective analysis of our use of the two video chat platforms over the last few years.
Office 365 allows each user to install their products (Word, Excel, etc.) on up to 21 devices. This means you could have Word installed on five different computers for just one user. That is an incredible deal, and also extremely handy for remote workers.
Security
We recently wrote a massive post to all things security and compliance for cloud storage (including services like email, video chat, calendars, etc.) that has far more detail, but for the sake of a direct comparison of Office 365 to Google Apps, we'll cover some of the highlights.
Security And Privacy Features Of Google Apps
Google is constantly updating and revising its privacy policy for Google Apps, but it is important to note that, at the time of writing, Google Apps for Work/Education complies with ISO/IEC 27018:2014. This means Google (contrary to popular belief) does not sell your data to advertisers (including AdWords), gives you tools to export/delete data, and provides transparency about where your data is stored.
For more information on the Google Apps privacy policy, please see the FAQ.
Important: The entirety of Google Apps is not HIPAA compliant—Contacts, Groups, and Hangouts (video chats) are not part of Google's HIPAA compliant service offerings. Do not store PHI in any of those services.
Security And Privacy Features Of Office 365
Security is arguably Office 365's most decisive win over Google Apps. We covered security and compliance extensively in another blog post, so we'll summarize a few key points.
For starters, Office 365 makes it easy to send encrypted email. Encryption is required for many types of communication in several industries—not just healthcare. Loan officers, therapists, banks and more need to protect their clients' data with secure email.
Depending on your license, Office 365 offers this as a native feature of Outlook. It also provides an incredible amount of flexibility and configuration options—you can choose to encrypt all email that goes outside the organization by default, you can have a keyword in the subject line trigger encryption, and much, much more.
We could go on with other security and compliance features of Outlook (don't tempt us with a good time!) for pages, but we won't—at least not in this post.  
We could also wax poetic about how these security and compliance features are baked into every product in Office 365, not just email.
Again, that's one of the reasons Office 365 is so strong with security—you don't have to wonder which apps are compliant and which aren't. For further reading on the security features of Office 365, check out the Office 365 Trust Center.
Conclusion
Again, we really don't feel Google Apps vs. Office 365 is much of a comparison, especially in terms of enterprise accounts—Office 365 wins.  
Cost = Google Apps (with significantly less features)
Utility = Office 365
Security = Office 365
The choice is your's, of course, and each platform has its business case. If you decide to go with Office 365, we can help, or offer you a free trial if you're still on the fence. If you don't need help getting set up, we offer you this parting advice: 
Don't be afraid to mix and match Office 365 licenses with a la carte services—take your time and figure out what you really need. Then, take stock of what services you already pay for (GoToMeeting, Dropbox for Business, etc.) and see if there's a more affordable solution from Office 365. You would be surprised how often this can save you hundreds (if not thousands) of dollars per year.
Big Green IT is a Microsoft Cloud Platinum Partner. Our experience spans small-scale to large-scale Office 365 migrations for both the private and public sector. We specialize in migrations and deployments from 100 to 10,000 seats.