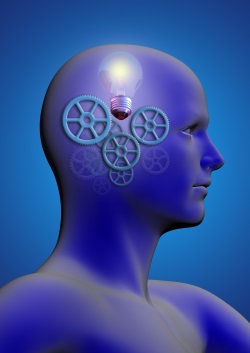 Expert (n): Ex=has been  'pert=drip under pressure.
I had a friend that was absolutely convinced that he was a genius. He would brag about IQ test scores from Internet quizzes, and how great life would be if people could just recognize his genius! He heard about Mensa (the high-IQ society) and talked me into taking their admissions test with him. He was almost salivating at the thought of being Mensa certified and how he could use their stamp of approval to verify his genius. I could not have cared less. In my opinion, you either have it or you don't and you either use all you have or you're squandering your potential.
We traveled to a very small California town to take the test. We took five standardized tests that looked for your abilities in pattern recognition (the essence of IQ). These tests were graded and the lowest score was discarded. If you scored in the top 98th percentile (IQ 130+), you got in. On the drive home my friend was sure his genius was not in doubt! Needless to say, when the test results came back, I was accepted and he was rejected (in fact, he was asked not to reapply). He never spoke to me again! 
How could he have had such a cognitive disconnect about where his skills where and where he thought they were? More to the point, how do we, as technicians, understand when we can call ourselves experts? I have rolled this around for many years and just recently found the answer. I was at Back to School night for my high-school son and one of the teachers took the time to explain the new Common Core educational initiative. One of the examples was a chart called Depth of Knowledge (DOK) level.
Level One (Recall) activities consist of recalling elements and details of things. Being able to represent in words or diagrams, concepts or relationships. 
Level Two (Skill/Concept) activities consist of identifying and summarizing major events. Solving routine multiple-step problems. Identifying patterns in events or behavior.
Level Three (Strategic Thinking) activities consist of supporting ideas with details and examples. Developing a model for a complex situation. Applying concepts in other contexts. 
Level Four (Extended Thinking) activities consist of conducting a project that requires specifying a problem, analyzing data, designing and architecting a solution. Being able to analyze and synthesize information from multiple sources. 
The DOK helps a person evaluate their knowledge at each level. The trick is to be brutally honest about the subject when you evaluate it. And, you must be able to say that *ALL* of the adjectives in that level describe you. If one is missing, you do not move to the next level. Even if you look at the requirements for level three and meet 50% of them, you are still a level two. Let's do a quick example and test my DOK of Italian food. Starting with Level One (Recall). Can I arrange, repeat, recall, etc. Italian food. I'm going to say yes for sake of argument and for my Italian grandfather! Level Two (Skill/Concept) Can I infer, categorize, summarize, etc. Italian food. Again, I'm going to say yes. Level Three (Strategic Thinking). Can I access, construct, compare, etc. Italian food? Yes, but only about 50% of the time. And the Level Four (Extended Thinking), can I design connect, create, etc. Italian food? Yes but only about 20%. That means I am only at a Level Two in my knowledge of Italian food. It does not mean that I don't think strategically or have extended thinking skills, but the last level that I cleared was Level Two. So, that is where I am according to the DOK chart. 
Meanwhile, back to my ex-friend. He believed that because he could do most of the things in Level Three and some of the things at a Level Four, that he was a Level Four and was bitterly disappointed when he wasn't. He simply didn't get it!  The funny thing is that we are our own worst critics, but we are also our biggest fans. If you decide to call yourself an expert in something, use the DOK to prove that you are. 
At BigGreen IT, we truly are experts in some things but there are many things for which we do not qualify to call ourselves experts (like Italian food). We would be the first to tell you what level we are and with what technologies we are comfortable. You are the expert in your field and we are the experts in ours. Let us show you how working with Big Green Professional Services allows you to fill the gaps in your depth of knowledge, allowing us to join together as a truly quantifiable expert team.