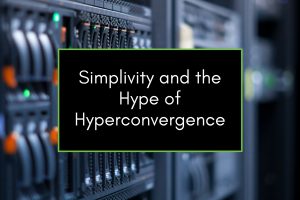 Big Green IT is always on the lookout for cutting-edge technology that can make our customers' lives easier and enhance their business processes, all while being cost- and time-efficient. It's a tall order, but that's why the team is always so excited about the products that they do decide meet this criteria. SimpliVity, a hyper-converged technology, is just that. 
We admit that hyper-converged technology sounds like something out of Star Trek, but in reality, it's simplifying IT for organizations of all sizes. Hyperconvergence allows integrated technologies to be managed as a single system through a common toolset. Although the technology is relatively still in its infancy, already 27 percent of IT professionals have adopted it and 67 percent anticipate adopting it in the next 24-36 months. 
SimpliVity, to which we fondly refer to as "Hyperconvergence 3.0" around the office, is the most advanced hyperconvergence infrastructure system to date (probably why it was recently purchased by Hewlett Packard). As opposed to other hyper-converged players that converge only compute and storage functionality, SimpliVity consolidates all core data center functions and services–including compute, storage, backup, replication, deduplication and WAN optimization functionality–onto modular 2U building blocks, all managed from VMware vCenter. 
SimpliVity is a solution for organizations that are running out of storage capacity, looking to lower storage costs, protect against data loss and/or free up their IT staff to work on more strategic projects. Already, we've seen amazing results across industries, and specifically in those that are government- or education-related, where every dollar counts and IT can be overwhelmed with data protection and storage needs across multiple locations. SimpliVity is proving to have savings for law enforcement agencies of up to 300 percent and because of its cost-savings and inherently green technology, has quickly become one of our new favorite tools.
On average, this hyper-converged technology has a 224 percent ROI, 73 percent TCO savings and a payback period of less than seven months. It was also the only IT infrastructure that made CNBC's recent list of the top 50 disruptive technologies that are changing our lives, right next to companies such as Uber, AirBnb and SpaceX.
Its seamless integration into VMware vCenter means it's easy to manage and requires no additional training. The product also allows organizations to:
Backup, move, clone and restore terabyte-sized virtual machines in under a minute
Backup every 10 minutes without a performance issue
Guaranteed more than 90% capacity savings across storage and backup combined
Save up to 20X on your power and cooling costs
You can see these results exemplified in case studies, here.
Interested in learning more about SimpliVity? Visit https://www.simplivity.com/  or contact the Big Green IT team at info@biggreenit.com or (916) 787-3223.