Dispensing iPhones, iPads, Androids, and Windows phones to your employees can sometimes feel like giving them out to your children. If they're responsible, it's an absolutely great idea that will increase their productivity and independence when out of the office (or your house). If they're not responsible, well that's when you spend the next couple of years kicking yourself wondering why in the world they were ready for such a big step.
On the flip side, a BYOD (Bring Your Own Device) philosophy is also commonplace in the workplace.  In this scenario, the employee uses her/his device to access your technology services.  Similar concerns arise regarding if this is a great idea to increase productivity while also balancing the concerns of what happens to your information and intellectual property (IP) when BYOD personnel are off the clock or no longer work at your company.
The reward of assigning company Internet-capable devices or adopting a BYOD policy is obvious:  Employees can connect to your infrastructure, business email, and all the bells and whistles that go with it no matter their location. 
The downside is the potential for misuse, either by the employees themselves or by nefarious third parties. Stolen passwords, "juice jacking", unattended devices, and poor choices when using public WiFi networks (hint, try to avoid public WiFi) all can result in the wrong people getting their hands on your sensitive data and perhaps even your IP. 
Microsoft's Office 365 gives a pair of options for device protection that can help management breathe a lot easier when your employees are in the field; namely Mobile Device Management (MDM) for Office 365 and Microsoft Intune.  But which one is better suited for your enterprise? Let's take a closer look at what each one offers and how each operates.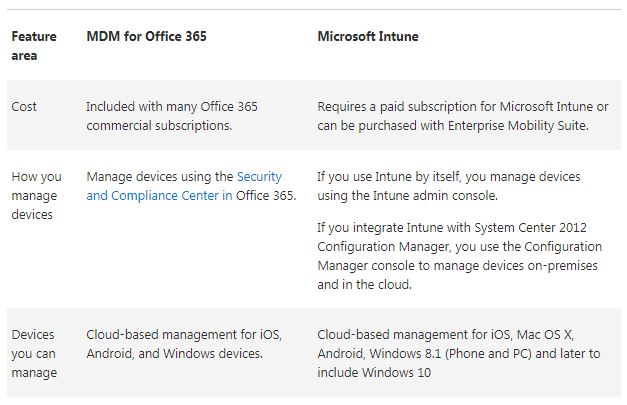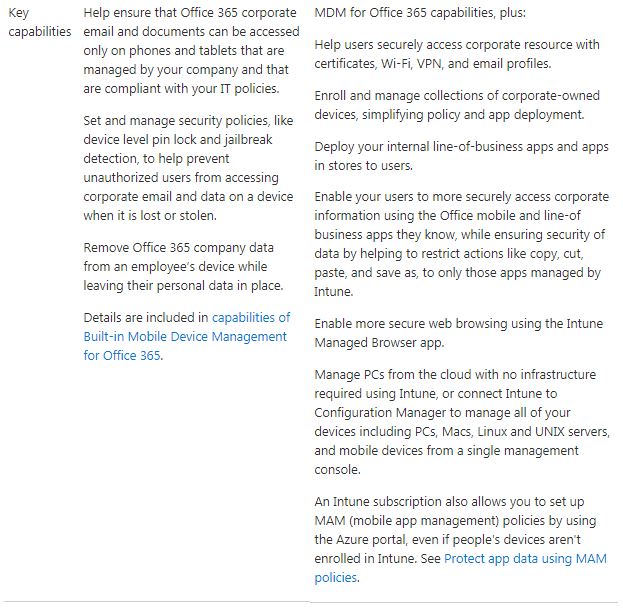 Perhaps the most impressive feature of both solutions are what they can do if the device is found to be compromised by a malicious third party or remaining in the hands of an employee who has been terminated.  You can do remove sensitive organizational data with a selective wipe or, in scenarios where MDM is configured to manage the entire device, a full wipe resets the entire device to its factory settings with the touch of a button.
Taking this to the next level is Microsoft 365, which combines the best of Office 365, Enterprise Mobilily + Security(including the Intune MDM features mentioned earlier in the article), and Windows 10.
You'll feel more secure about your corporate information and your corporation's security posture with an MDM solution that fits your business.